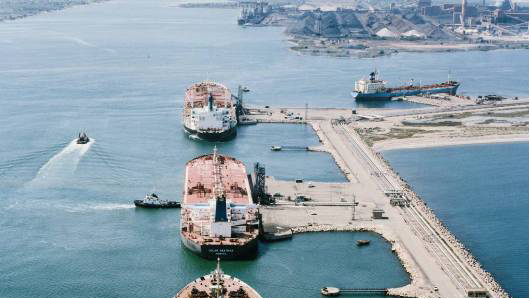 Exxon's Port Jeremy and Fos-sur-Mer refineries and the refined products terminal at Le Havre face strikes by the CGT and FO unions, labor representatives said Monday. The strikes are part of a months-long, nationwide, cross-industry protest against government labor reforms. 
An Exxon Mobil spokeswoman said on Monday that labor actions were not affecting output at its two refineries, but she added that striking workers were already blockading its oil terminal in Southern France.  
At the Fos-Lavera oil terminals on Monday, «no ship is operating,» said Pascal Galéoté, CGT Secretary General at Marseille port, speaking to Reuters. The terminals supply multiple other facilities via pipeline. 
Competitor Total's refineries have already been affected by strike actions. The oil major operates five of the eight refineries in France, and it said Monday that it has begun the process of shutting down its Normandy and Donges plants. Its other refineries have already either shut down or dropped to minimum capacity.
Other ports have also been affected. Last week, Brittany Ferries had to cancel multiple sailings between Britain and northern France due to labor actions. 
The unions are calling for the reversal of controversial government labor reforms – legal changes designed to make it easier for employers to hire and fire staff and to use in-house accords on pay instead of national guidelines. President Francois Hollande says the change will encourage firms to recruit and combat an unemployment rate that has remained above 10 percent.
Separately, in Portugal, the Sindicato dos Estivadores, Trabalhadores do Tráfego e Conferentes Marítimos (SETC) plans to extend its ongoing strike until the middle of June, disrupting cargo movements at all Lisbon terminals and the ports at Setubal and Figueira Da Foz. The union is in discussions with port operators for a new collective bargaining agreement.