A year after a powerful 7.1 magnitude earthquake struck Mexico City, survivors have found some rather interesting living quarters to now proudly call home.
Thanks to the charitable contributions of a local architect along with her friends and other industry professionals, three families from the town of Cuajimalpa are now living inside shipping containers. 
Mexican architect Maria Gomez thought of the idea of sprucing up the enormous, 430 square-feet shipping containers and converting them into livable homes. 
She started with homes for three families who were left on the streets when their previous properties were totally destroyed by the September 19, 2017 earthquake that killed 228 in Mexico City and another 142 in the states of Puebla and Morelos.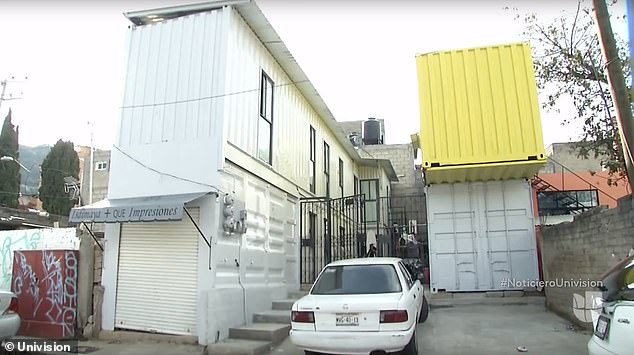 An architect in Mexico came up with the idea of converting three large shipping containers into homes for three families displaced by the 2017 earthquake that struck Mexico City
Maribel Alva is one of three women whose homes were totally wiped out by an earthquake that shook Mexico in 2017. She accepted moving into a container home
The September 19, 2017 earthquake rattled Mexico City as well as the states of Puebla and Morelos. The quake killed 370 and injured 6,000 and displaced countless families
More than 6,000 people were injured.
Gomez met three families from the San Pablo Chimalpa neighborhood and presented the quirky idea of starting a new life inside the yellow and grey shipping containers.
They quickly accepted but not before running into a few obstacles with the local Mexican government and other companies. 
'Obviously we had no idea how it was going to be, but we did not have a house,' Maribel Alva told Univision.
'So we thought the idea was cool. We did not think that it would be as it looks right now.'
A look into one of three 430 square-foot shipping container that was converted into a home in Mexico City. Three families were assisted in moving into these new homes
As was the case with Alva and two other home owners, the government refused to acknowledge the massive quake left their houses at a total loss according to the complex laws set forth by home insurance policies. 
Instead, the destroyed homes were graded at a partial loss, meaning the affected families would be eligible for less funding.
The massive quake occurred on the 32nd anniversary of one of the deadliest disaster in the country's history when the 1985 Mexico earthquake claimed the lives of almost 10,000.  
Maria Gomez sprung to action right after noticing how a Mexican City town was a badly affected by the 2017 earthquake and offered to build container homes for three families
Each container home has its own kitchen (pictured above), dining room, living room, two bedrooms and a bathroom. The average cost is about $10,000 to set it all up
Construction on the containers started in April and the homes were ready to welcome new owners in September.
Each home has a kitchen, dining room, living room, bathroom and two bedrooms with a number of windows lined up across the side of the containers that were once utilized to ship goods across the world.
All three homes share a patio. 
Soon each home will also have its own gas supply line.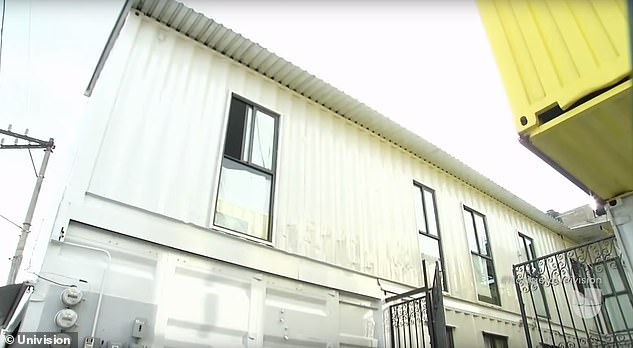 One of the three shipping containers that were converted into homes for three families whose houses were destroyed by the massive 2017 earthquake that struck Mexico City
The result surpassed owners' wildest dreams
'The truth is that at the beginning we had no idea that it was a container,' Juana Manon told El Universal. 
'And now living here, it's a dream come true.'
Gomez is already thinking about introducing a large scale plan of more container homes to the incoming government because she sees it as a cost-effective measure.
The architect estimates the creation of each home container at $10,660, and they could be prone to withstanding future earthquakes, especially in the areas that were affected by the 2017 severe earthquake. 
'I think we can reconstruct in other ways that we would have never imagined. We need to understand the urban structures in another way,' Gomez told El Universal.
'The benefit of the containers is that the intervention is faster.'